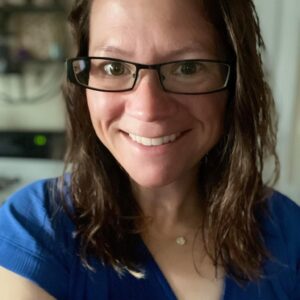 PAWTUCKET, RI (December 2, 2021) – The YMCA of Pawtucket's CJ Meehan has been selected out of a national pool of candidates to be one of just 11 Early Learning Champions by PBS.
According to PBS, the awards, which were established in 2018, "recognize and celebrate passionate educators who work with the nation's youngest students, from infants to second graders." 
"The past 18 months have shed a necessary light on just how critical these educators are to our nation's children, especially in the area of social and emotional learning, which is core to our mission," said Lori Brittain, Senior Director, Education, PBS said in a statement. "We are thrilled to continue elevating awareness of their vital work and celebrate and support these everyday heroes through the PBS KIDS Early Learning Champions program."
Meehan is the lead teacher and director of Project Explorations temporarily housed at the MacColl YMCA, a branch of the YMCA of Pawtucket. Project Explorations is a new preschool laboratory school program devised in partnership with Davies Career & Tech and will be moving to Davies sometime this Winter.  Meehan received the award in recognition for her advocacy on behalf of social justice, racial equity, and the inclusion of LGBTQ curricula in an early childhood educational setting. Meehan was hired in June to launch Project Explorations at the YMCA; she previously worked as a co-teacher in the preschool and kindergarten levels at the Henry Barnard School at Rhode Island College.
"Every single child has inherent worth and dignity, just the way that they are. Because of that they all deserve a teacher who sees them for who they define themselves as and then supports them within the classroom," Meehan said, in describing her approach to teaching. 
"CJ is deeply committed to inclusion and equity; she serves on the Dialogue on Diversity and Inclusion Presidential Committee," PBS said in biography of the award recipients. "CJ's thoughtful pedagogy reflects a culturally responsive and trauma-informed lens. Her classroom is a true learning community based on the principles of restorative justice, equity education, mindfulness, and reciprocity in communication."   
Meehan, who left a career in human resources in the mortgage industry to become an early childhood educator, said the award felt like validation for her chosen career path. "It was a combination of pride, humbleness, excitement, validation. It was wonderful," Meehan said. 
"We are so happy to have one of our educators be chosen for such a selective award. CJ epitomizes the YMCA's commitment to diversity and inclusion; support of our communities; and supporting the whole health and wellbeing of those we serve. We are proud of CJ and excited to have her lead Project Explorations," said Charlie Clifford, CEO of the YMCA of Pawtucket. 
About the YMCA
The Y is one of the nation's leading nonprofits strengthening communities through youth development, healthy living and social responsibility. Across the U.S., 2,700 Ys engage 22 million men, women and children – regardless of age, income or background – to nurture the potential of children and teens, improve the nation's health and well-being, and provide opportunities to give back and support neighbors. Anchored in more than 10,000 communities, the Y has the long-standing relationships and physical presence not just to promise, but to deliver, lasting personal and social change. The YMCA of Pawtucket is comprised of five branches across the state: Pawtucket Family YMCA and Heritage Park YMCA Early Learning Center in Pawtucket, MacColl YMCA in Lincoln, Westwood YMCA in Coventry and Woonsocket YMCA.