Warwick, RI (December 8, 2021) – The Rhode Island Mortgage Bankers Association (RIMBA) recently celebrated its 35th anniversary, marking more than three decades of advocacy on behalf of its members and consumers, as well as support for the community.
RIMBA was founded in 1986 to be a voice for a group of firms that were new to Rhode Island—mortgage bankers and brokers. RIMBA has advocated for its members on legislation and regulation that affected their business, building a solid, working relationship with both the state General Assembly and Department of Business Regulation.
"The vision of RIMBA's founders in 1986 has become a reality over the last 35 years. One of the best measures of that success is our relationship with the General Assembly and Department of Business Regulation that's been sustained and strengthened over the years," said Thomas Fleming, RIMBA Executive Vice President.
In addition to dealing with legislative and regulatory affairs, RIMBA is an educational resource for its members, updating them on current trends and best practices in the mortgage industry, along with ways to improve their services, all of which ultimately benefit the local consumer. Along with its educational programs, RIMBA sponsors networking events which build community among local mortgage bankers and brokers and allows for the exchange of ideas and practices, also improving the mortgage services they are able to provide.
Over time, RIMBA has expanded its mission. In addition to representing its members, it has also been an advocate for the Rhode Island consumer, supporting legislation that ensures a steady flow of residential mortgage financing for first-time and returning homebuyers.
RIMBA's hard work and tireless advocacy for its members has helped the association grow to 90 member firms, the most it's had since the 2008 market crash. Its annual dinner, held Nov. 18, drew 175 participants, the most ever in RIMBA's history.
RIMBA also has endeavored to be a good corporate citizen, donating to a number of charities over the years, including the Rhode Island Community Food Bank, South County Habitat for Humanity, Homes for Our Troops, Toys for Tots, and American Cancer Society in the memory of RIMBA Past President, Patricia Slepkow. RIMBA also maintains a scholarship program for children and grandchildren of its members, providing $14,000 in total award funding to date.
In 2020, RIMBA also launched a course in mortgage processing at CCRI, in conjunction with the Department of Labor and Training. So far, out of four cohorts of classes, 54 students have completed the classes, a graduate rate of 91 percent.
"Over the years we've done many things for the industry and for the consumer in Rhode Island. The mortgage processing course at CCRI is a hallmark achievement of our 35 years, reflecting both our commitment to our members and the mortgage industry, and our support for the community," Fleming said.
About a dozen of the graduates from that course were recognized at RIMBA's annual dinner, and the Distinguished Service Award was presented to RIMBA's Director of Curriculum, Elizabeth Phelan, for her role in helping get the mortgage processing course at CCRI off the ground.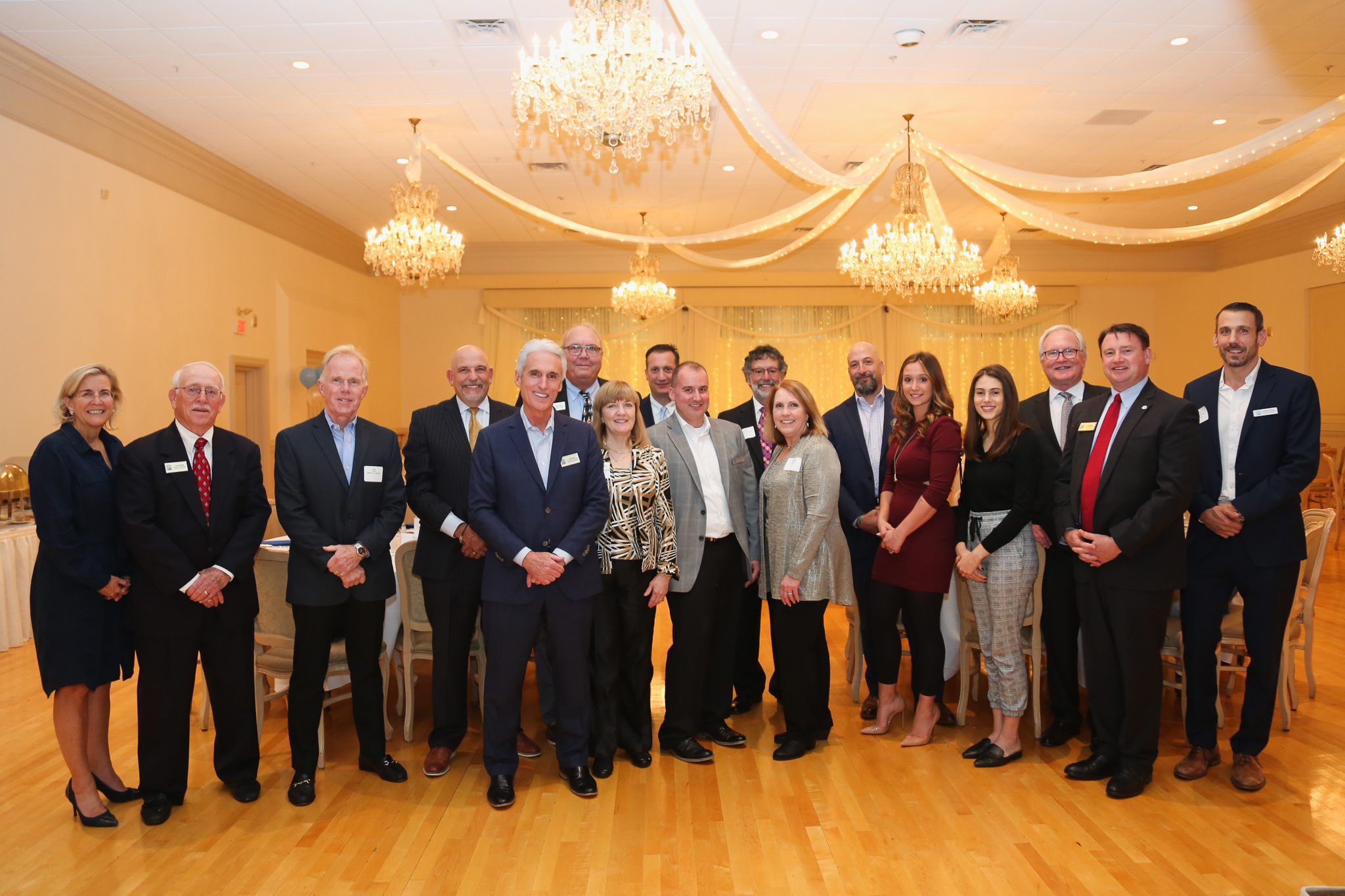 Pictured left to right:
Back Row: Connie Viera, Tom Fleming, Jay Rowley (Past President), Paul DeCoste, Bill Dawson, Peter Pagonis, Jerry Margulies (Past President), David Currie, Jim Hahn, Ben Pettit
Front Row: Al Grant (President), Deb Imondi, Chris Lee, Carolyn Dion-Motta, Samia DeMarco, Sara Hanson, Patrick Deady
Missing: David DeCubellis, Dean Harrington, Ann-Marie Copland
About Rhode Island Mortgage Bankers Association
The Rhode Island Mortgage Bankers Association is dedicated to promoting and sustaining responsible home lending in Rhode Island. The mortgage association has over 90 corporate members, which represent thousands of mortgage lenders throughout the state who help businesses and people secure mortgages. As part of its overarching plan to create a better housing market, RIMBA regularly promotes educational initiatives, addresses legislative challenges, and strives to cultivate membership growth. For more information about RIMBA, visit: rimba.org.