PAWTUCKET, R.I. (October 23, 2020) –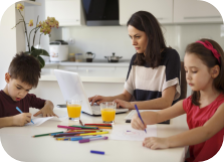 Sick and tired of feeling sick and tired in these COVID-19 times? The YMCA of Pawtucket, with locations in Pawtucket, Lincoln and Woonsocket, invites all in the community to participate in a free six-week STRONG challenge designed to help
 transform spirit, mind and body. "Now, more than ever before we need to recharge and refocus," said YMCA of Pawtucket CEO Charlie Clifford. "The COVID-19 pandemic has worn us down. It's isolated us in so many ways. This challenge provides an opportunity to get active and healthier by yourself or as a Strong family."
Visit our website and Facebook page for details on how to join in. Program begins October 19th so sign-up now. You can opt-in to the free challenge by texting STRONG to 855-520-6222. Follow the prompts to sign-up and you will receive three texts a week filled
with motivation, challenges, workouts and more. You will also be able to attend the Y for one day each week to enjoy swimming, working out and a variety of classes.
Everyone in the community is also invited to workout wherever you are, taking free YMCA FacebookLive online classes like Zumba, yoga and HIIT. The complete weekly schedule is available at ymcapawtucket.org. You can also participate in a variety of outdoor activities, like pop-up classes and nature walks. Visit the website https://myy.org/strong/challenge/ and learn more about the STRONG challenge.
"It's the perfect time to take back our lives, reenergize, achieve goals, feel better and stronger," added Clifford.
About the YMCA
The Y is one of the nation's leading nonprofits strengthening communities through youth development, healthy living and social responsibility. Across the U.S., 2,700 Ys engage 22 million men, women and children – regardless of age, income or background – to nurture the potential of children and teens, improve the nation's health and well-being, and provide opportunities to give back and support neighbors. Anchored in more than 10,000 communities, the Y has the long-standing relationships and physical presence not just to promise, but to deliver, lasting personal and social change. The YMCA of Pawtucket is comprised of five branches across the state: Pawtucket Family YMCA and Heritage Park YMCA Early Learning Center in Pawtucket, MacColl YMCA in Lincoln, Westwood YMCA in Coventry and Woonsocket YMCA.