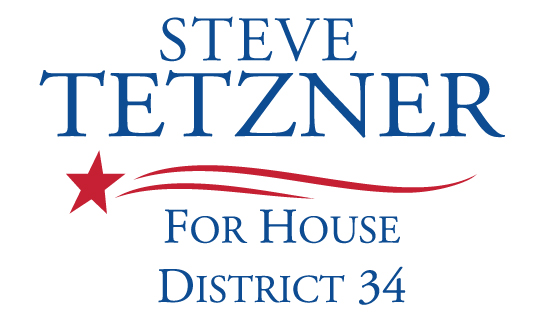 NEWS RELEASE
For Immediate Release
Narragansett, RI (March 21, 2014) – Realizing the need for change in Rhode Island, entrepreneur Steve Tetzner has officially announced that he will be running for State Representative for District 34 (Narragansett, South Kingstown).
Steve is hosting a formal campaign kickoff event on Wednesday, March 26th at Phil's Main Street Grille, located at 323 Main Street in Wakefield, RI, from 7 – 9 p.m.  The event is open to the public, and he is encouraging South County residents to join him and learn more about his plans for growing the economy and attracting jobs.
As a Rhode Island native and owner of Homestar Mortgage, Steve understands first-hand what needs to be done to get the state back on track. He is determined to pursue economic development and social priorities that Rhode Island can actually afford, all while keeping voters' interests ahead of special interests.
Steve has always been a strong advocate at the state house for the business community.  He routinely meets with the General Assembly, business and community leaders in an effort to steer our state in the right direction – politically, financially, and economically. He plans to make Rhode Island more competitive by reining in business-stifling regulations and hopes to restore fiscal accountability and management to state government. In addition, Steve looks to invest in our children's future by securing public education funding.
"The good people of Narragansett and South Kingstown deserve dependable, reliable leadership from their State Representative and not someone who breaks promises. This election is a matter of trust and sound judgment. If elected to the Rhode Island House of Representatives, I pledge to work tirelessly to improve the quality of life for all residents in South County."
Committed to public service not self-service, Steve will donate his entire legislative salary to South County charitable organizations and establish a college scholarship fund for deserving graduates of Narragansett and South Kingstown high schools.  He will not accept General Assembly provided health insurance benefits or the stipend for declining the benefits.
Steve has lived in Rhode Island for 37 years, and currently resides in Narragansett with his wife, Barbara, stepson, Zachary and two chocolate labs, Sadie and Daisy.  He studied Finance at the University of Rhode Island, and is a co-founder of Homestar Mortgage.  His company is currently a top ten producer of purchase money mortgages in Rhode Island and is one of the leading producers of Rhode Island Housing Loans. Steve was past President and Director of the Rhode Island Mortgage Bankers Association (RIMBA), as well as past Chair of the RIMBA Legislative Committee.
An active member of the Narragansett Lions Club and several charitable organizations, Steve has helped to raise money for Easter Seals, Toys for Tots, the Rhode Island Community Food Bank, and St. Patrick's school.  He most recently donated to the Animal Rescue League of Southern Rhode Island to help them build their new shelter.
To learn more about Steve or to contact him, please visit his website www.tetznerforri.com.
###