YMCA of Pawtucket Celebrates Employee Accomplishments During Staff Recognition Night 2019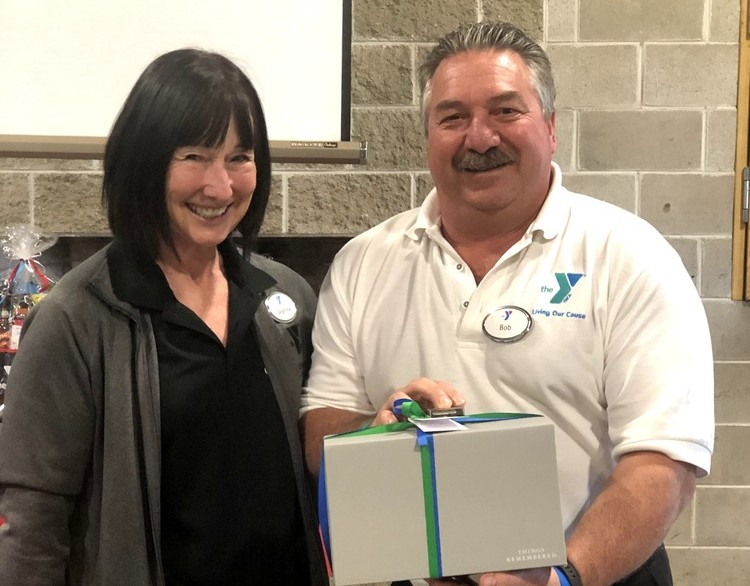 PAWTUCKET, R.I. (June 12, 2019) — Continuing a tradition of recognizing individuals who have furthered the Y's mission of promoting youth development, social responsibility, and healthy living, the YMCA of Pawtucket honored exceptional members of its workforce during its Staff Recognition Night event in early June. Employees from every branch convened at the MacColl YMCA in Lincoln to learn about their colleagues' accomplishments and dedication to the community.
"We are so grateful for the amazing staff that we have here at the YMCA," said Charlie Clifford, Chief Executive Officer at the YMCA of Pawtucket. "We are so proud of their dedication to strengthen the community and without them, we would not have the successful organization that we have today."
Bill Evans, who has served as a swim coach at the Woonsocket YMCA for 10 years, was among the night's award winners. He was presented with the Youth Development Champion Award for helping children realize their full potential.
Joining Evans in earning an equally important award, Sean Guzeika of the MacColl YMCA was named the recipient of the Social Responsibility Champion Award. Guzeika was recognized for his involvement in the MacColl Adaptive Program Initiative, a program where he helps people with developmental and behavioral disabilities achieve healthier outcomes.
Shelly Millett of the Pawtucket Family YMCA was another staff member who earned one of the event's most coveted awards. Millett, who works to provide healthy living opportunities for active older adults, was presented with the Healthy Living Champion Award for her instrumental role in launching programs specifically aimed at improving the quality of life for individuals with chronic illnesses.
"The YMCA of Pawtucket is proud of Bill, Sean, and Shelly's commitment to the community, and we are deeply appreciative of everything they do to help individuals achieve their goals," said Jeanine Achin, Chief Operating Officer at the YMCA of Pawtucket. "Their acts of kindness reflect the Y's overarching mission, and their actions help inspire others to do good in the community."
During the event, the YMCA of Pawtucket also held its Second Annual Friendliest Staff Award Competition, recognized staff who improved the Safety Around Water program, and acknowledged the accomplishments of YMCA Health Leaders.
Individuals recognized with the Friendliest Staff Award included:
Family Pawtucket YMCA
Adriana Barboza
Jenneth Fuller
Dunia Caranza
Rita Bolton (Heritage Park)
MacColl YMCA
Selena Scott
Dan Cameron
Jariah Gray
Woonsocket YMCA
Angela Carrier
Ray Defresne
Westwood YMCA
Individuals recognized for enhancing the Safety Around Water program included:
Ed Rotella, Aquatics Director at the Woonsocket Y.
Erin Riccio, Aquatics Coordinator at the Pawtucket Family YMCA.
YMCA Health Leaders who were recognized included:
Teaching LIVESTRONG
Jeff Smith
Charissa Hallam
Shelly Millett
Andy Huand
Tracey Smith
Teaching Chronic Disease Self-Management
Tracey Walsh
Shelly Millett
Karen Postle
Teaching Chronic Pain Self-Management
Shelly Millett
Andy Huang
Karen Postle
Diabetes Prevention Program
Shelly Millett
Karen Postle
Brandy Isom
Walk with Ease
Led by Karen Messier and Tracy Walsh in Woonsocket and Shelly Millett and Erin Riccio in Pawtucket.
About the YMCA of Pawtucket
The Y is one of the nation's leading nonprofits strengthening communities through youth development, healthy living and social responsibility. Across the U.S., 2,700 Ys engage 22 million men, women and children – regardless of age, income or background – to nurture the potential of children and teens, improve the nation's health and well-being, and provide opportunities to give back and support neighbors. Anchored in more than 10,000 communities, the Y has the long-standing relationships and physical presence not just to promise, but to deliver, lasting personal and social change. The YMCA of Pawtucket is comprised of five branches across the state: Pawtucket Family YMCA and Heritage Park YMCA Early Learning Center in Pawtucket, MacColl YMCA in Lincoln, Westwood YMCA in Coventry and Woonsocket YMCA.
###