North Kingstown dignitaries joined American Labor for Grand Opening of New Location
NORTH KINGSTOWN (October 10, 2018) — Ahead of their busiest hiring season, American Labor Services opened its newest location at 7448 Post Road, North Kingstown. On Thursday, Oct. 4, local dignitaries and staff from American Labor celebrated the expansion of the agency with a ribbon cutting ceremony.
Benjamin Kaplan, president of American Labor, kicked off the ceremony with remarks that highlighted North Kingstown as a center for economic activity. "The reason we have opened a location in North Kingstown is because we see an opportunity for growth, and there is an untapped workforce that is actively looking for employment in this area. Our proximity to Quonset Business Park and other businesses in North Kingstown will help us expand our operations, but we are also looking forward to helping families become gainfully employed," Kaplan said.
Elizabeth Dolan, Economic Development Administrator for the Town of North Kingstown, Kevin Maloney, a North Kingstown Town Council member, and Jim Halley, chair of the North Kingstown Chamber of Commerce's Board of Directors, were among the attendees to show their support for the agency's latest achievement.
"The North Kingstown Chamber of Commerce would like to thank American Labor for choosing North Kingstown for its new location. We are excited to see American Labor and local businesses work together to address the challenge of finding talented employees," said Kristin Urbach, Executive Director of the NK Chamber of Commerce.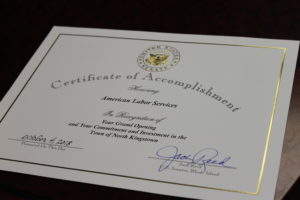 Sen. Jack Reed, who could not attend the event, praised Kaplan's leadership with a Certificate of Achievement, which recognized American Labor's commitment for the Town of North Kingstown.
"The new site will place American Labor in a better position to provide North Kingstown businesses with talented candidates from the area," Kaplan said. "More importantly, the addition of this site to our portfolio will allow us to recruit more applicants for companies across Southeastern New England."
About American Labor Services
American Labor Services is a staffing agency that has worked with employers throughout Rhode Island and Massachusetts for over 30 years. The agency has built a reputation for maintaining a vast pool of qualified job candidates, and providing staffing solutions to large and small employers on a timely basis.
For more information about American Labor, visit: americanlaborservices.com.
###